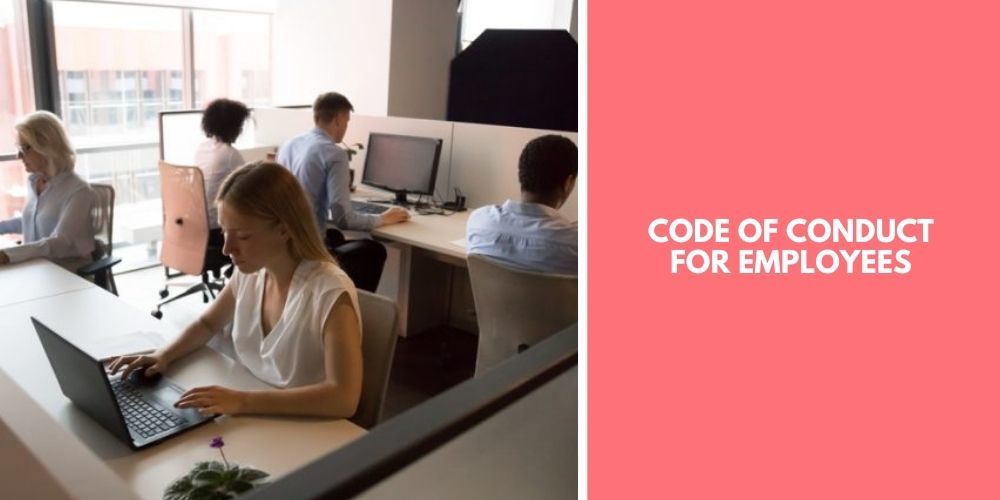 Code of Conduct for Employees | Company Rules for Employees
Code of Conduct Meaning
The Employee Code of Conduct defines acceptable behavior and social norms that individuals in an organization should adopt & practice on a day-to-day basis. It is a set of legal documents that provides guidelines on acceptable behaviors of individuals in an organization. Some Code of Conducts for employees are of similar nature for organizations. List of code of conducts may vary based on business nature, type of organization, country location of the company etc.
Purpose of the Code of Conduct for Employees Policy
The main purpose of code of conduct for employees policy is to provide guideline to the employees about  the most legal and ethical behavior expected from them during the tenure of his/her service in the company. It enhances the company's core values, beliefs and sets the right behavioral culture in the organization.
Code of Conduct of a Company for the Employees
The below stated  Code of Conducts of the company shall have to be abide by  all the existing employees as well as new entrants of all  categories  as a commitment on their part during the tenure of their service with the company & even after job separation.
All the employees have to follow & comply existing service rules & regulations of the company which may be amended & updated from time to time.
During appointment all the employees have to submit correct & genuine documents according to the information provided in his/her CV. Upon joining or in course of doing job, if any information/ document / certificate is proved as fake, manipulated or not genuine, the concern employee will be held responsible for that and the decision/disciplinary action whatever deemed appropriate by the management of the company shall be binding upon him/her unconditionally.
All the newly joined employees have to provide a declaration in writing that , his/her job separation with immediate past employer was smooth & there is no claim(s)  or allegation(s) relating to any financial and / or any issues pending and unsettled with him/her(this clause is not applicable for the fresher who does not have any previous job experience).
However, if any claim(s) or allegation(s) are raised against any employee by immediate past employer, the concern employee  will be personally liable and held responsible for the same and it will be his/her sole responsibility to resolve the matter and the management of the company shall not be at all liable or responsible for any such claims and/ or allegations. In such event, the decision whatever deemed appropriate by the management , shall be binding upon the employee concern unconditionally.
Employees are not allowed to take any full time or part time employment / consultancy job  with other company/institute , nor are allowed to directly or indirectly involve in any type of profitable business with the company, except otherwise approved by the top management.
Employees have to maintain all company information with strict confidentiality and shall not disclose/ share/ provide to any person/ organization/ institution either in verbal or written form in full or in part.
Employees will maintain all available company intellectual property, information, data, statistics etc. only for the purpose of performing his/her assigned duties and will take all possible care for maintaining confidentiality. All inventions, new work process developments, works of authorship (manuals, SOPs, policies, rules, procedures, guidelines etc.) etc. exclusively developed by any employee or in combination with others in the course of his/her employment with the company shall be the sole property of the company and the company shall have exclusive rights over the same.
Employees will use the company materials, stationeries, equipment, energy etc. in a very economic & cost effective manner to avoid any kind of misuse.
Employees have to take precautions while using of their Personal Computer/ Laptop by ensuring that others cannot view or access into their working information and provide password to prevent access by unauthorized users.
Leakage / disclosure of any confidential information of the company by an employee as and when comes to anyone's knowledge shall immediately bring to the notice of management to protect company interest.
Employees will refrain from any type of activities which according to the management of the company / law of the country may be considered as insubordination or in-disciplined act.
Employees have to maintain organization/department chain of command/hierarchy. Misbehavior/Improper attitude/personal verbal abusing towards the seniors will be treated as serious misconduct. The dishonored high official has to complain to Management/ HR Department stating the detail incident. Basing on the limit of misconduct, appropriate disciplinary action (like show cause, warning, salary deduction, job separation etc.) will be taken against the concern employee.
Senior officials should not misbehave or maltreat their juniors. It is the prime responsibility of senior official to maintain professional harmonious relationship with their junior colleagues. In case of non-complying of behavioral norms by the senior(s), if complain raised through verbal or written mode and proved, management may take justified action which will be binding upon the concern senior official to comply.
 If any employee is found & proved to be involved with misconducts like dishonesty, forgery, theft etc. s/he will be immediately dismissed from the company. In serious cases s/he maybe handed over to the law enforcing agency.
In case of emergency situation if the job demands to work for extended hours or on weekly off day employees have to perform their jobs unconditionally.
All employees have to treat everyone in the company equally irrespective of gender, color, religion etc. and show respect to all without making any discrimination on the basis of designation, religion, gender, biasness etc.
Employees have to always show respect and comply with the professional norms & decorum, etiquettes, ethical values, dress code etc. as and when becomes binding upon them from time to time.
Employees will not use any external pressure group to influence the management of the company for any benefit of self in terms of promotion, increment, transfer etc. or for managing job / business with the company for others.
Employees will refrain themselves from conducting of any such activities which is considered as an act of sexual harassment. On occurrence of such event, disciplinary action will be taken against the concern employee as per management decision.
Employees have to refrain themselves from taking & dealing with any kind of prohibited drugs both inside & outside the office. In this connection if any claim is raised and proved against someone, s/he will be personally liable and held responsible for the same. In such event the decision whatever deemed appropriate by the management shall be binding upon him/her unconditionally.
While dealing with office issues, employees are not allowed to take anything in the form of monetary and/ or non-monetary, from any person/ official/ organization/ institution etc. for any personal gain which may be considered as bribe and / or unethical practice.
If someone suffers from any serious & contagious disease which may affect others, s/he will not hide the information to the management and will take treatment immediately for recovery.
Employees will not correlate their exclusively personal/ family matters/ problems with the official matters in the interest of maintaining congenial atmosphere in the office.
During the tenure of employment or after separation from service with the company, employees shall never make any defamatory/ obnoxious/ harmful comments or statement etc. against the company or any official of the company to others either in writing or orally.
Employees shall confirm that they will always refrain from disclosing any information pertaining to the company business, financial or business turnover, bank statements etc. to any person, organization, media (both print & electronic), etc.
It will be binding upon the employee to declare about any criminal / civil case if pending before any court against him/her. Furthermore, during the tenure of his/her service with the company if any case of similar nature is lodged by anyone against the employee, s/he will not hide the information and immediately declare the same in writing to the management. In such case the decision whatever deemed appropriate by the management of the company shall be binding upon the concern employee unconditionally.
In case of job separation through resignation, all the regular confirmed employees have to provide required notice period, (if the condition is not set otherwise in appointment terms).Failing to provide required notice period, Final Settlement  amount will be calculated and paid as per the company policy.
At the time of separation from service each & every employee is required to  handover all company assets, materials,, equipment, documents (both soft & hard copy), stationeries and/ or any other item his/her possession to the concerned authority in tact without any reminder.
Approval of the Code of Conduct for Employees Policy
The above policy which has been created by HR department will be checked, amended(if required) and finalized by the relevant authorities and submit to the Chief Executive Officer/Managing Director of the company for getting approval and implementation.
Effective Date of This Policy

This policy will come into effect immediate after the approval of the management and will replace all previous policies, instructions, office orders in this regard until further order.
The management reserves the right to review/ amend/ discontinue/ withheld this policy fully or partially at its own discretion without assigning any reason whatsoever.
Final Words
Code of Conduct for employees policy should be well written by the professional Human Resources officials of all the companies and circulated among the employees effectively.
The employee code of conducts of an organization should be well briefed to the employees through conducting training or other effective means for getting desired behavioral & ethical result from the employees.